Epsom Caravan Hire





WE ARE AGENTS FOR
WAECO PORTABLE FRIDGES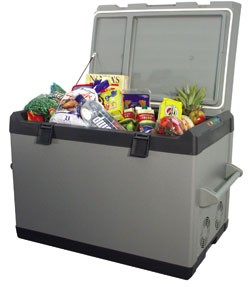 $1499.00 inc GST
Separate Freezer/Fridge/Dairy compartments
12 and 24 volts standard
31 kgs
110 litres
German Engineering BD50 Danfoss Compressor
5 Year Warranty
Industrial grade digital electronics
Moisture proof touch buttons
Whisper Quiet Operation
Battery Protection
Robust cabinet design
Extremely strong carry handles can act as safety tie down points
240 Volts Available
Turbo boost rapid freezer function
High grade steel casing, much more durable than fibreglass
Extra thick 50mm of premium quality ozone friendly insulation
All inner surfaces have the highest standard food grade finishes
2 removable baskets
Food saver safety switch
Internal light

NEVER BEFORE AVAILABLE FROM A MAJOR MANUFACTURER.
YOUR MOST REQUESTED FEATURE. SEPARATE REFRIGERATOR AND FREEZER COMPARTMENTS.


It's now a reality. Even better, through WAECO technology, we have delivered this revolutionary new chapter in mobile refrigeration at an unbelievably low price. Many hundreds of dollars less than any remotely comparable product, in fact there really is no comparable product. If you're a person who likes to get out of town and discover new territory, this is the perfect solution. You can pay hundreds more for another brand that's years out of date or treat yourself to this brilliantly engineered and constructed mobile refrigerator and freezer with all of the latest technology and features. Three completely seperate temperature compartments, one for frozen goods, one for refrigerated food and drinks and one for dairy products or fruit and vegetables. High grade corrosion protected coated steel cabinet , digital controls, turbo freeze and the legendary and extremely powerful Danfoss BD50 compressor motor.
---

The Technology.

THE CF-110 works with the high-tech Danfoss BD50F compressor.

This implies the following features:
- Powerful performance
- Minimum power consumption
- Superbly silent running
- Fully operational even on a tilt
- Problem-free operation with 12 or 24 volts
- Optional 240 Volt AC Adaptor
- (automatic switch-over with priority switch
mode for mains operation)
- Suitable for solar operation
---
•Separate Freezer /Fridge/ Dairy compartments
•Moisture proof
touch buttons
---
Technical Data

Ref. No. CF-110 Capacity: 110 litres; Voltage: 12/24 volts DC; Power input: approx. 70 watts; temperature Sections: 7°C-10°C Crisper, 4°C fridge, -18°C freezer: Power consumption: power input x average running time; Temperature range: 5°C to >= -18°C, variable via electronic digital thermostat; System: fully hermetic Danfoss BD50 compressor with integrated moisture proof touch buttons, low-voltage protection adjustable for consumer or starter battery by means of slide switch, electronic fuse/automatic reverse pole protection, dynamically ventilated wire condenser, aluminium rollbond evaporator. Delivery kit: DC connection cable, 2 baskets, operating instructions; Dimensions/Weight:
Inside freezer: 184 x 465 x 399 mm (WxHxD)
Inside fridge: 284 x 465 x 399 mm (WxHxD)
Inside crisper: 139 x 214 x 399 mm (WxHxD)
Total Size: 790 x 550 x 503mm (WxHxD). Total size inc. Handles: 916 x 550 x 503mm (WxHxD), approx. 31 kg
Power Draw: 5.5 Amp when running, Av 3.5 amps/hour at 30°C with < 4°C Freezer





MORE MODELS AVAILABLE, CLICK HERE
| Home | About Us | Services | Spare Parts | Order Form | Email Us |

ABN 92 779 504 829



Copyright © - Epsom Palms Caravan World - All rights Reserved
Site design by Webpage World